Anthroposophy NYC Blog
KEEP TALKING
(dispatches from social isolation)
First Offerings: Joyce Reilly
Moses and We Are Reborn
Joyce Reilly
It's a rainy Thursday morning in May, and still quiet at 8 am in the supermarket. I just missed the Senior Hour at 7, and there are a few younger folks starting to flow in, masked, still wiping the cart handles and their hands with sanitizer. The cereal aisle is empty but for a well-dressed—for 8 am—woman with a paisley mask. We smile the wrinkled eye smile of the careful ones, and I notice that she is holding a box of cereal with a kind of—reverence. Inappropriate for the content, which is definitely not organic.
She smiles again and says: "It was his favorite cereal. I always have a box in the pantry, though neither of the children like it and I never did." I smile back. She continues: "My husband died, almost a year ago. It was so sudden! He was only 48. He went in for a routine set of tests, and had a heart attack. We weren't with him… I'm still in shock." I respond: "That must have been very difficult. I am so sorry."
She continues, we're still alone in the isle: "And you know what the worst part was, after? His clothes! He was such a careful dresser! 'Natty,' they used to say! He loved ties of all sorts. I just couldn't deal with all these lovely things that he chose and wore so carefully. A week ago a good friend came over and said: 'RIGHT! We are going to do this today.' So she helped me pack it all. Some of it in original suit covers and shoe boxes! It was so kind, and so hard. We took it to a place that helps outfit men for job interviews, some homeless, some just out of prison. They were so grateful; every item, I got a receipt with every single item listed. It was so kind, so respectful."
She stared to cry very softly, apologies… I said no. And then I thought I must tell her…
About eight years ago I resettled refugees from Darfur for an agency in Newark, and the first four young men lived with me for a while. One of their teachers took them to just such a place to get outfits for their first job interviews. They came home with perfectly fitting jackets, trousers, even suits, and shirts and ties… Flush with their new found wardrobes and full of the shiny promise that a 21 year old who has escaped a genocide can beam forth. Then, they tell me that they need shoes! They only have these agency-issued sneakers! So we head off to a discount department store with a little donated money, and they each take two hours to choose, try on, and finally select the perfect dress pair. I am informed by Moses that he must have a black pair as his suit is blue, and his brother must choose dark brown because his suit is a beige tweed. Pretty darn sophisticated.
The following weekend, Moses has a job interview at Nordstrom's on a Sunday morning. He comes downstairs in the new blue suit, the light purple shirt, and deep purple tie, his black Calvin Klein shoes gleaming. He looks—extraordinary—in his donated clothing; he looks like he can—and will—conquer the world. After three years walking across Sudan after fleeing his burning village, and five years in a refugee camp where he learned English and how to wait, he is here in New Jersey, shining with more hope and promise than a heart can hold. All in someone's donated suit… Can she picture this?
She stops for a moment, her mask is wet, and she smiles. Imagine that… his clothes are being worn right into a new life, like a next life.
Thank you she says… No, I say, thank you. And your husband. And Moses.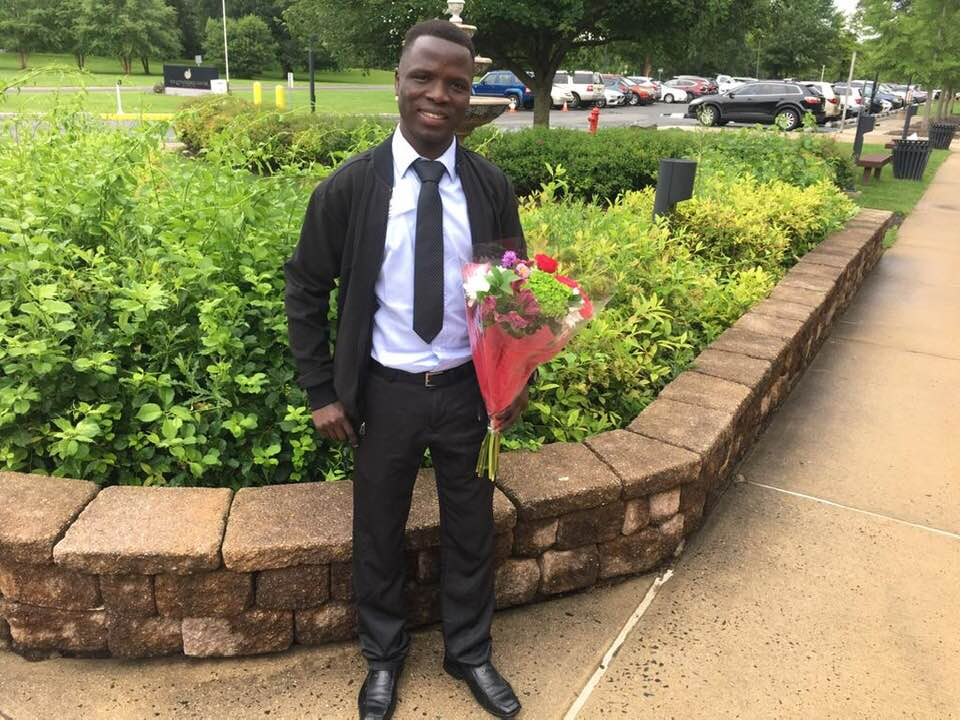 Keep in touch with eNews.
Click on the button below to subscribe to our news and program updates…