Anthroposophy NYC Blog
KEEP TALKING
(dispatches from social isolation)
An Offering: A Reflection on Corona by Michael Ronall
"Corona, or Coronata, is what the Italians call this sign (⊍), which, if it occurs in certain parts of all the notes at the same time, means a general silence or a general pause." ~ Johann Gottfried Walther, Musical Lexicon (1732)
Many years ago, Rev. Gisela Wielki offered New Yorkers an Advent sermon through which members of the congregation were invited to observe how frequently it happens as Christmas draws near to city-dwellers that they are forced to wait on line—at the post office, at banks, in stores—and how easily one can react with frustration and impatience to this constriction imposed on our liberty. But, she suggested, a little refection will reveal that this enforced waiting actually bestows a gift, an early Christmas gift, of a commodity about whose scarcity we complain throughout the rest of the year, namely time. From hour to hour throughout our lives, we rush through schedules to meet deadlines, ever craving more time, until the gift of which we always feel deprived is suddenly thrust upon us by forcing us to wait: time, never otherwise available, through which our inner lives are immediately granted an opportunity for contemplative stillness, and this just at Advent, the festival that celebrates Mary's archetypal, anticipatory waiting to give birth to the world-redeemer.
In the Easter-forces suffusing another normally bustling city where I now live, a similar gift was bestowed on residents, though we were brought to collective stillness by a death-dealing epidemic rather than through any individual, tender preparation for a festival of birth. But the opportunity for heightened cognition mandated by social restrictions might also merely await discovery by eyes similarly opened through a willingness to receive in trusting gratitude whatever the world brings to us.
During the first Easter at Emmaus, the disciples who had been struggling to make sense of the strange, awful, crushing turn of events they had experienced in the apparent failure of Christ's promised redemption, followed by signs that remained tantalizingly inconclusive, nevertheless held themselves open to instructive blessing, so that "When he was at the table with them, he took bread, gave thanks, broke it and began to give it to them. Then their eyes were opened and they recognized him…" (Luke 24:30-31)—and through that recognizing came also to see his enduring, unconditionally accompanying presence, guiding our world through each of its perplexing, sometimes violently transforming, but perhaps ultimately healing crises.
Michael Ronall
Hamburg, Germany
* Adapted from the Newsletter of the Christian Community in Forest Row, the UK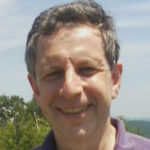 Former New Yorker and Spring Valleyite Michael Ronall recently completed three years as a guest-student at the Seminary of the Christian Community in Hamburg, where he has been writing up what he learned there.
Keep in touch with eNews.
Click on the button below to subscribe to our news and program updates…