When:
October 17, 2021 @ 3:00 pm – 5:00 pm
2021-10-17T15:00:00-04:00
2021-10-17T17:00:00-04:00
Where:
Anthroposophy NYC Online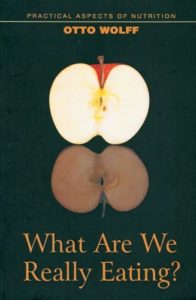 What to Eat?
Sundays, 3-5 pm
This group will continue to meet via Zoom on the following dates in 2021:
April 11, May 16, June 13,
July 11, August 8, September 12,
October 17, November 14, December 12
Please contact Katherine Vode for sign-in information. 
Paleo diet? Vegan diet? Mediterranean diet? Atkins diet? Ketogenic diet? High carbohydrates or low? Raw food? Juices? Confusing? Absolutely! Too many choices. Conflicting medical opinions. We will explore insights from anthroposophy to discover nutrition principles each of us can follow.
Recommended reading: What Are We Really Eating? By Otto Wolff.
All are welcome!
For more information, contact the group leader Katherine Vode: (201) 803-6677, kdfinebooks1 (at) gmail.com.
*****