1st Advent Sunday: November 29, 2020

 "Can I know life's reality
So that it's found again
Within my soul's creative urge?
I feel that I am granted power
To make my self, as humble part,
At home within the cosmic self."
A call for deeper exploration of one's self in Rudolf Steiner's Verse 35, from the Calendar of the Soul (trans. Ruth and Hans Pusch)
ushers in the four weeks of Advent as a preparation for the Twelve Holy Nights of Christmas.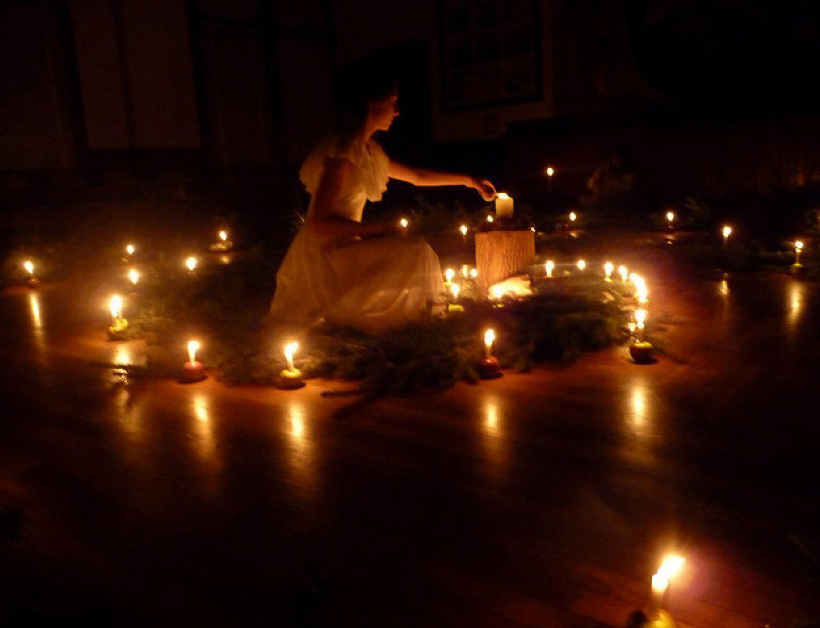 For the last few years, we have been offering an advent spiral for adults. As you may remember, we created together and walked one-by-one a traditional evergreen spiral pathway as an image of the path through Advent to Christmas. We entered a space lit by candle lights and resonating with the sounds of lyre to connect with our own inner light. We will do that again next year.
But this year, we need to follow a different way. On the first Advent Sunday, I invite you to make a conscious decision to tune into your Soul, a spiritual seed residing in your heart. Allow time each day to slow down and contemplate.
Rudolf Steiner suggests pondering the mineral elements in the natural world during the first week of Advent. Light one candle this Sunday or during the week, placing a stone or a crystal next to it.
If you are drawn to learn more about the festivals, visit the Rudolf Steiner Bookstore at 138 West 15th Street to browse our collection of books about the festivals and the seasons, for adults and for children, and choose one or more to take home with you. We're offering a 10% discount on all in-store purchases through Christmas.
Moraeus: Koppangen
(English Version)
Anne Sofie von Otter
(Album: Home for Christmas)
There is silence around me in the peaceful winter night.
From the church down in the valley I can see the candlelight.
And I stopped for a moment in this winter paradise,
When I heard a choir singing through the darkness and the ice.
And the rays from the lights behind the window's vaulted frames
Have united the souls in hope that something great is waiting.
And I know that those who have left us here had the same thoughts as I,
We're like flames in the darkness and stars up in the sky.
And I can see how they sparkle and they fade before my eyes
And the truth is coming closer like a wonder in disguise.
We are caught here for a moment like an imprint of a hand
On an old and frosted window or a footprint in the sand.
For a while I'm eternal – that's the only thing I know,
I am here and we share our dreams about our destination.
It is cold out here, the snow is white but I'm warm deep inside.
I am warm 'cause I know that my faith will be my guide.
Now there is silence around me, I have heard those words again,
In a hymn of grace and glory, saying: Nothing is in vain!
I can sing- and believe it, let the message reach the sky.
Oh silent night, let your promise never die!
And I long for the others, it is peaceful in the church.
He was born for a purpose, and that's why we're here together.
Holy night, I feel like a child inside, and believe He was sent.
So I'm lighting a candle each Sunday in Advent.
Keep in touch with eNews.
Click on the button below to subscribe to our news and program updates…